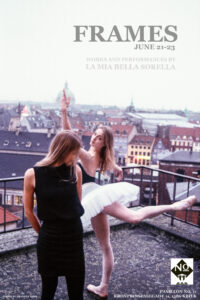 FRAMES at Pavillon no. 11 
June 21-23 2019
La Mia Bella Sorella presented new works at Pavillon no. 11 in Copenhagen.
Premiere of new works It Probably Began Even Sooner / I Prefer Before End State and
Sisters in Park, 2019
Showings of collaborations with Elana Jacobs / CabinFever and videographer Dayvid LeMmon.
Still Life with Sisters, a Studio and New York – Teaser
Collaboration between CabinFever and La Mia Bella Sorella
Premiered June 22 2019
Pavillon no. 11, Copenhagen
http://pavillonno11.dk
http://www.cabinfeverliveart.com
Animality Studies – Teaser
Three short films made in collaboration with Dayvid LeMmon
Premiered June 21 2019
Pavillon no. 11, Copenhagen
http://www.dayvidlemmon.com
http://www.pavillonno11.dk